IDGP gives you everything you need to protect your business BEFORE an attack occurs. We can help with customized deployment and remediation services that optimize your entire security strategy. Leveraging artificial intelligence to detect and quarantine threats, we eliminate vulnerabilities and prevent them from further exposure PERMANENTLY.
Security companies often suggest that the installation of their product will solve all your security problems. There is no such thing as a silver bullet, and it takes many technologies and processes to provide comprehensive risk and security management.
Endpoint Security
Any device provides an entry point for cyber threats. Choosing the right endpoint software is the most important decision you will make. IDGP provides a solution that leverages the power of artificial intelligence and machine learning to provide a proactive and predictive solution with higher efficacy that also performs with minimal updates, fewer system resources, and limited network and user impact. In addition, IDGP offers consulting
services to help institute best practices for prevention, network architecture, internal IR workflows, vulnerability and patch management, and assessment of both internal hosts and externally facing services that attackers use to gain the foothold.
Perimeter Security
SANS recommends layered security approach to protect the enterprise infrastructure. With the proliferation of modern applications and IOT devices on the networks, host and port-based security is no longer sufficient. You will need a layer 7 next-generation firewall to monitor the ingress and egress point on your network to complement the endpoint security. Meraki Security Appliance supports several features, like a stateful firewall and integrated Sourcefire intrusion prevention (IPS) engine, to keep networks secure. Threat definitions and filter lists are seamlessly updated, ensuring every site has bleeding-edge protection from the latest vulnerabilities and troublesome websites.

Meraki Security Appliances can be remotely deployed in minutes using zero-touch cloud provisioning. Security settings are simple to synchronize across thousands of sites using templates. Auto VPN technology securely connects branches in 3 clicks, through an intuitive, web-based dashboard.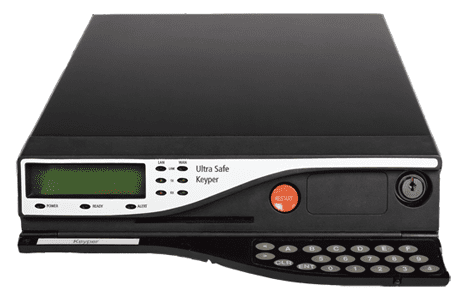 Keyper Plus HSM
Where cryptographic services are used to protect an information system, trust and integrity are derived from the security of the underlying signing and encryption keys. This makes protection of these keys critical to the overall trust and integrity of a system.
Cryptographic key material can be stored and protected in a variety of ways and on a variety of media including software, smart cards and USB tokens. However, where protection is critical, the level of security offered by these solutions may not always be enough.
Storing and protecting key material on a physically separate Hardware Security Module (HSM) is the only viable option, making the HSM a critical element in the architecture of any security system. Keyper Plus is the world's only Hardware Security Module (HSM) to provide FIPS 140-2, Level 4 - the highest level of key protection and cryptographic assurance.